The London Olympus Hotel is situated in the heart of Stratford in London's East end. The hotel is 10 minutes walk from the main bus/rail/underground station where buses and trains can be boarded to every part of London and beyond. Services running to and from Stratford include Silverlink, Jubilee Line, Central Line, DLR (Docklands Light Railway) and National express services to Stanstead airport. The hotel is just 2 minutes walk from the University of East London. Stratford is 15 minutes by underground to the excel exhibition centre and 20 minutes from central London. National Express coaches can also be boarded at the bus station.
About the London Olympus Hotel
The hotel has a total of 24 rooms, each with en-suite bathroom which contains a shower, toilet and wash basin. Each room is equipped with a TV set, Tea and Coffee making facilities and free Wi-Fi internet access.
Prices are as follows:

Single Room: £40 per night
Double / Twin Room: £55 per night
Triple Room: £70 per night
Walk to the Hotel
The hotel is just 10 minutes walk away from Stratford Rail, bus and underground station.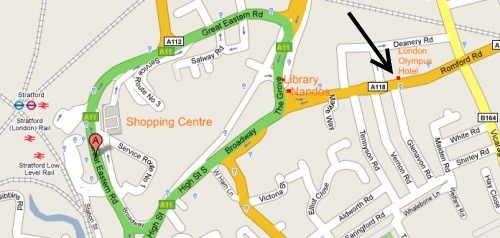 From Stratford Rail/Bus station, walk across the plaza. You will see the shopping centre ahead of you, across the road. Walk through the shopping centre until you come out onto the Broadway. Turn to the left and follow the shops around until you come to The Grove. You will see the library ahead of you. Cross the road as if you were going to the library, and turn towards the right. Go around Nandos and follow Romford Road going past two minor roads (Litchfield Avenue and Deanery Road). The London Olympus hotel reception is on your left (number 35 Romford Road).